My top 5 experiences from 'Swahili for the Broken-Hearted'
Swahili for the Broken-Hearted is the account of another one of my big overland adventures, this time from Cape Town to Cairo.
The title is a nod to the fact that I'd split up with the girl I'd travelled around Central America with for The Full Montezuma and was inspired by a little book of Swahili quotes by S. S. Farsi. Each chapter of my book starts with one.
I do love me an epic overland adventure.
So you won't be surprised to learn that it was one of my favourite journeys ever.
It was tricky, for sure. And there were times when I didn't think I'd end up getting to Cairo. But I battled on, and thanks to the kindness and hospitality of the locals – and a huge dose of traveller's luck – it all worked out.
As usual, I've created a rod for my own back limiting this post to my top 5 experiences from the journey.
I probably had that many unforgettable encounters every day.
---
#1: Staying at Vicki's B&B in Khayelitsha
Khayelitsha is the biggest township in Cape Town.
It's a sprawling collection of makeshift dwellings and 'facilities', made from whatever lay at hand.
It's not exactly on the tourist trail. In fact, white South Africans I met told me it was downright dangerous. But I read about a woman called Vicky who had turned her shack into a makeshift B&B and felt compelled to check it out.
It turned out to be the perfect start to my big overland journey from Cape Town to Cairo.
Vicky was a funny and generous host. I got my own room – although the handwritten school timetable on the back of the door, suggested it may have been for her kids. And a 1.25 litre bottle of coke was laid on with every home cooked meal.
Vicky also introduced me to everyday life in the township. She took me on a tour of the local shopping centre – a selection of repurposed shipping containers. And introduced me to the incredible women running life-changing enterprises on shoe-string budgets.
She even arranged for a chaperone called Elvis to take me to the local shebeen, a rough and ready drinking establishment just across the road.
It was called The Waterfront because it was next to the district's only water tap.
I misread the room and said, "In the ghetto, eh?'
My ill-judged reference to his King of Rock and Roll namesake fell embarrassingly flat.
Then I bought the first round of Mansa Pilsner and all was forgiven.
#2: The people of Lesotho
Scholars have long speculated that J.R.R. Tolkien based evil kingdom of Mordor in 'The Lord of the Rings' on the tiny mountain kingdom of Lesotho.
He grew up in Bloemfontein, they argue, with a view of the jagged, desolate mountains of Lesotho from his window.
Ergo dry, forbidding peaks in Southern Africa equals bleak, evil landscape in Middle Earth.
I discovered a flaw in this theory the moment I crossed the Maseru bridge into Lesotho.
Not only wasn't there an orc or goblin in sight, the people were amongst the friendliest I'd come across in Africa.
Which was lucky, as it turns out.
I spent a helluva lot of time in close contact with them, bouncing my way across their tiny little country.
On the back of trucks. In tiny tin shack bars. In dirt floor restaurants. In mountains huts. And in unroadworthy minivans as they negotiated treacherous ice covered passes.
Which is probably why Lesotho remains one of my favourite places in the world.
#3: Gatecrashing Robert Mugabe's birthday party
I went to Robert Mugabe's 78th birthday party with a raft tout from Victoria Falls called David.
David had tried to sell me a raft tour on my first morning in town. I wasn't interested, but business was so slow that we spent most mornings after that sitting on the corner just shooting the breeze.
Bob's 'party' was being held in a football stadium in Chinotimba, the ramshackle township on the edge of the more orderly town of Victoria Falls.
David told me that Mugabe held a shindig like this in a different part of Zimbabwe every year. He did it to show the people he loved them, he said.
This year it was Chinotimba's turn to feel the love.
After a cheeky chibuku at David's mud hut to get us in the mood – it's the local sorghum beer, in case you're wondering – we set off for the stadium. It was packed. The promise of free beer and steak meant that everyone in town was there.
David and grabbed a spot on a grassy hill and settled in to watch proceedings. I was the only white person there, but no-one seemed to care.
Well, not until the presidential cavalcade arrived. Then one of Mugabe's goons tapped me on the shoulder and showed me the gun under his shiny suit.
He told me to 'Get lost!' but the joke was on him.
I'd already had my free beer and free steak.
And that's all I'd really come for.
#4: 'Starring' in an Oscar-winning movie
It was a German movie being shot in Nairobi as I passed through on my way north to Cairo.
If you scroll through my blog feed you'll come across some stills from the movie where I've carefully circled myself in various scenes.
I'd responded to a flyer stuck in the foyer of the skanky hotel I was staying in – The Iqbal, sadly no longer with us – and was cast as a German prisoner.
5 days work, $US50 a day, all meals catered for. We were paid in US cash so it basically funded the Ethiopia and Sudan legs of my journey.
The movie went on to win the Best Foreign Language Oscar at the 75th Academy Awards so that looks pretty good on the CV too.
It was also how I was able to figure out where Paul Theroux and I had crossed paths on our respective Cape Town to Cairo adventures.
He was heading the other way for his book 'Dark Star Safari' and mentions a German movie being shot while he was in Nairobi.
I got to chat with Paul Theroux for Wanderlust magazine a few years later and mentioned it to him.
He'd stayed in The Norfolk, he said.
It seems the film company hadn't advertised for extras there.
#5: My truck ride from Gallabat to Gedaref in Sudan
I travelled the 330 kilometres between Gallabat and Gedaref in Sudan on the back of an old cattle truck with a stick – quite literally – up my arse.
I travelled the 330 kilometres between Gallabat and Gedaref in Sudan on the back of an old cattle truck with a stick – quite literally – up my arse.
The truck was carting sacks of firewood along the dusty desert track that connected the two towns. It kept breaking down, of course, so a journey that was supposed to take a day ended up taking three.
Sometimes the truck broke down near a tiny village with a tea shack. Mostly, it spluttered to a halt in the middle of nowhere. We spent our first night sleeping beside it with the flash of intermittent rebel gun fire in the distance.
Sounds horrific, right?
I guess it was. But it was also one of my favourite rides on my trip.
I got to introduce my fellow passengers to the magic of sunscreen.
They taught me how to drink tea while reclining on my side.
And sleeping under a blanket of stars in the middle of the Sudanese desert was magical and exhilarating.
The thing I remember most though is the stoicism, hospitality and good humour of my fellow passengers.
They had sticks up their arses too. But they showed me that the best way to deal with it was with a wide grin on your face.
Start the journey now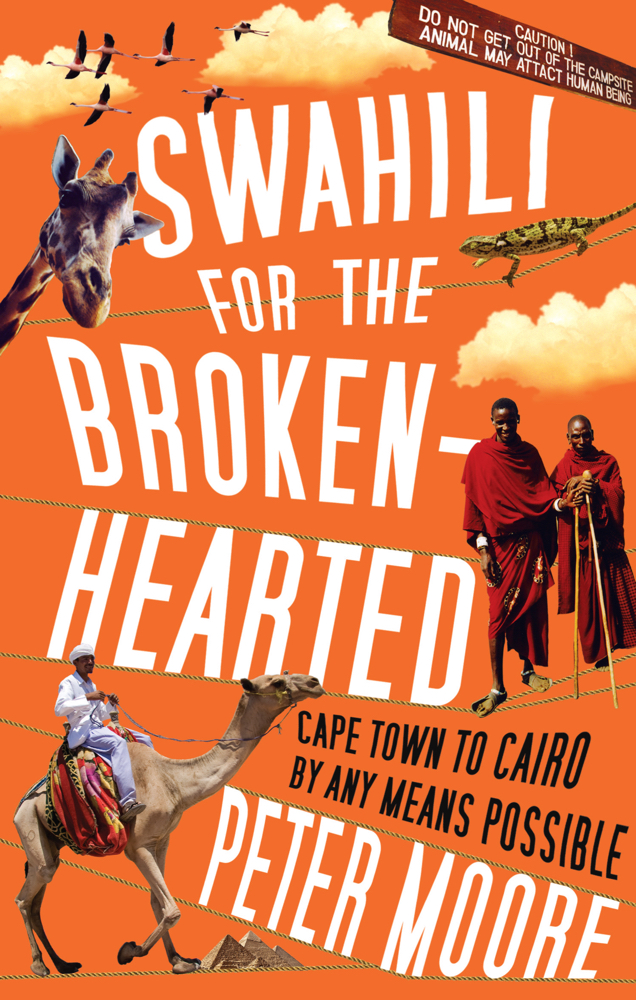 Here's some good news! Swahili For the Broken-Hearted is available to download as an eBook right now. With just a couple of clicks you could be on your way from Cape Town to Cairo. Pole pole!