Borealis on a budget
Perceived wisdom has it that it costs an arm and a leg to see the Northern Lights. I wanted to see if I could do it for under £250.
Örjan, a gruff, weathered man in his 50s, had a very particular system for rating northern lights displays.
A one out of ten, he said, was a faint smudge in the sky. A perfect ten was when the lights hung around you, 360 degrees, shimmering and cascading like a celestial waterfall.
"It only happens every four years or so. And if I see them I don't tell anyone. People would lose their minds."
I nodded sagely. To the local Sámi, the lights represent the spirits of ancestors; pointing at them was regarded as bad luck.
"Not the Sámi!" he replied, incredulously. "The tourists!"
That would be the people spending thousands of pounds to catch a glimpse of such a wonder. I was in Abisko on the cheap – and I'd still be teed off if he didn't tell me.
I was staying at the hostel run by Örjan and his sons, Tomas and Andreas, in Abisko Östra in Swedish Lapland.
It was part of my attempt to see if it was possible to experience the northern lights on a budget of £250.
I'd settled on Abisko because it was cheap to get to, cheap to stay in and regarded by many as the best place in the world to see the aurora. There's a 'blue hole' in the sky over the town lake, apparently, that scientists say keeps the sky clear here even when it's overcast in surrounding areas.
In keeping with my budget theme I'd arrived the day before by bus from Kiruna.
It dropped me in front of the MackåMat in Abisko Östra, a combined petrol station, general store, restaurant and pub overlooking frozen Torneträsk lake and the mountain range to the north.
Östra is the dowdy practical sister of Abisko Turiststation, the more glamorous, snowbunny resort 2km to the west. As well as the MackåMat, Abisko Östra has a supermarket, a school and a smattering of quaint clapboard houses painted either red, brown or yellow.
It may be utilitarian and functional but it's still surrounded by the same spectacular wilderness.
My hostel, Fjälturer, sat on a hill.
Snowshoes and cross-country skis hung on the outside wall while the staircase was lined with thermal jumpsuits and snowboots.
Tomas explained that I was free to use any of the gear during my stay.
"We also have a sauna," he said. "You have to use it naked."
Nakedness cuts down on bacteria, apparently.
It was a rare overcast evening, so I asked Tomas what people did for fun.
"Beer and sauna nights, organised on Facebook," he told me.
However, the next one wasn't until Saturday, so he suggested I go back to the MackåMat.
I ate reindeer linguine in a lounge bar with dim lights and dark panelled walls; coverage of the Winter Olympics played on a television hung high in a corner.
The clouds remained, so the huge photo of swirling green aurora that decorated the bar's ceiling was the closest I got to seeing the lights that night.
But I had tried reindeer. (It tastes like venison, in case you're wondering.)
While the general store at the MackåMat was where locals shopped for outdoor gear, Coop Lapporten was where they bought groceries, posted letters and picked up their prescriptions.
For me, it was the key to eating affordably during my stay.
I love wandering around supermarkets when I travel. I love searching for unusual, exotic items.
I also get a juvenile thrill from everyday products with silly or rude names.
Coop Lapporten didn't disappoint. I found vacuum-sealed reindeer steaks and chocolate bars called Plopp and Kex.
As well as pasta, broccoli, cheese and chocolate, I bought Swedish meatballs, a smoked cod roe paste called Kaviar.
Just for the hell of it, I threw in a packet of vinyl-sized crispbread wafers and a couple of bottles of Julmust, a festive root beer-like drink known as Christmas Sap that was reduced in price because Christmas was well and truly over.
The girl scanning my items was particularly impressed that I'd bought the crispbread.
"They've got a hole in the middle, you know," she said. "You slot them onto a pole that hangs across the kitchen."
She told me that she used to make them with her grandmother, using a kruskavel, a knobbly rolling pin, that made the distinctive dimples.
Wafers would be taken down as needed, and replaced when the next batch were made, following harvest or in the spring when frozen river waters began to flow again.
The tube of Kaviar caught her attention too. "Oh, you must get some eggs," she said. "Hardboiled, on the crispbread, with Kaviar on top. It's delicious."
Shopping done, and the sky still crisp and clear, I decided to do something active.
There is no shortage of things to do in Abisko.
For example, it is the head of the Kungsleden Trail, a 450km walk with huts every 20km or so that can be followed in both summer and winter.
There's the Naturum visitor centre, run by the Swedish Environment Agency, which explains about local flora and fauna; there's a canyon that can be explored, and a chairlift up Mount Nuolja.
If you have the cash, you can also go dogsledding, snowmobiling or ice fishing. I decided to take advantage of my hostel's complimentary gear and go snowshoeing.
Once I figured out how to put the snowshoes on, I was surprised by how much difference they made.
Earlier in the day I had ventured out to see the huskies in their kennels, and found myself struggling through a mini snowdrift like I was Scott of the Antarctic.
Now I was skipping across the white, heading towards the mountains and their stubble of bare beech trees at a great rate of knots.
Tomas had suggested I start in the area at the back of the hostel, just beyond the heliport.
It was marked on his handdrawn map as 'The Unknown'.
Tomas said I would find a number of easy, flat trails here.
Walking in snowshoes, he said, was like walking on sand, but with poles to help your balance; it only got tricky on rough terrain or going down steep slopes.
The trails he suggested had neither, just the odd stand of pine trees, heavy with snow, and the occasional passing dog sled.
I heard the dog sleds coming long before I saw them, the excited yelps cutting the crisp air like a knife.
I stepped aside and watched them pass, the dogs running their noses along the snowdrift to cool down; I returned a nod to the musher as he whistled past.
After an hour or so, I turned back towards the hostel, stopping only to watch the sun sink behind the mountains, without another human being in sight.
Soon it was time to venture out to see the lights, the main reason for my budget Arctic adventure.
Tomas had told me that the heliport was as good a place as any, offering views across the lake, so I put on every piece of clothing I'd brought with me and trudged into the -20°C cold.
After an hour of shifting from one foot to the other and shaking my hands to keep warm, a greenish-brown smudge appeared in the sky to the east, spreading like a spilt beer, before suddenly disappearing.
I waited for it to reappear, but it didn't.
I'd seen the northern lights. I think.
The next morning, in the kitchen of the Fjälturer hostel, guests swapped tales of aurora sightings and showed photos of the displays they'd seen.
Alan and Seth from Hong Kong had taken a series of spectacular shots down at the lake at around 1.30am. I asked what had possessed them to stay up that late.
"We didn't stay up," Seth said. "We got up. The paper said it would be a 'three' at around that time."
Seth pointed to a note pinned to the notice board.
Every couple of days, Tomas printed out a report from the local meteorological station that listed the likelihood of displays, their expected intensity and a rough approximation of the best time to see them.
I admit I had deliberately steered clear of aurora websites before visiting Abisko. I didn't want to know if the moon would be waxing or waning, or if a magnetic pulse from the sun was on its way from the sun. I had booked my trip three months earlier, based on when I could get the cheapest flights and a cheap bed in the hostel.
I figured that by doing things as cheaply as possible I could increase my chances of seeing the lights by staying longer.
Having said that, I was pleased to see that tonight's display was expected to peak at the more sociable hour of 9pm. I was less pleased that the lights would be at their most intense on Sunday, two days after I left.
I spent the afternoon attempting a snowshoe reconnaissance of the lake, before giving up and going to the local craftshop/café for a coffee.
It was run by Emma, a blonde Swede who looked like Agnetha from Abba; she chatted with customers as she glued sequins to dolls.
She had grown up in Abisko under the northern lights, so I asked her if she got blasé about them.
"If they're really spectacular I stop and look," she said. "But most of the time I don't even notice them."
At 8pm I made my way down to the lake.
I passed the small crowd that had gathered beside the wharf, and headed out to the spot I had found earlier in the afternoon.
I had barely arrived when an unearthly green light leaked out from behind the mountain range and across the sky like an alien sunrise. It skittered and flickered, danced and throbbed.
By 9pm it had faded and ebbed away.
I turned and walked back towards town, content that I had seen the northern lights properly.
But the aurora hadn't finished with me yet. By the time I hit the caravan park – perhaps the least salubrious part of Abisko – the sky came to life.
Lights of varying size, shades of green and intensity came at me from all angles. Some shimmied upwards. Others swirled like lava lamps.
One transformed into a prehistoric cave drawing of a fox, its endless tail sweeping around the sky.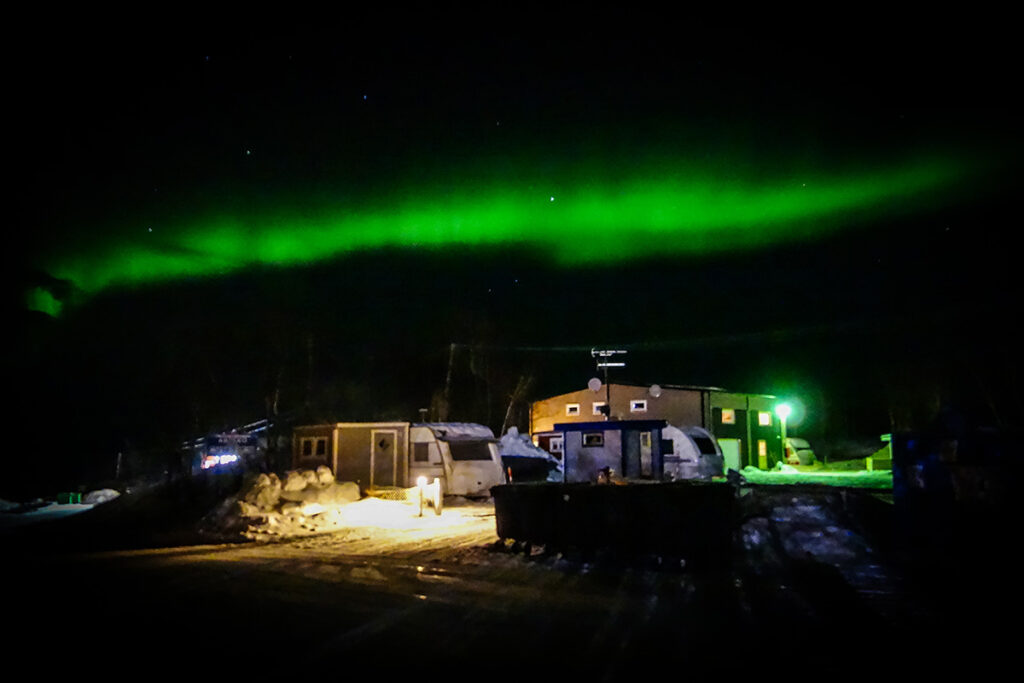 When I reached town, it was like a scene from Ghostbusters.
The aurora appeared out of the top of buildings like ectoplasm, twisting above Abisko before making a dash for the mountains. At the hostel, guests gathered outside laughing, clapping and, I'm afraid to say, pointing like overgrown children.
Was this what Örjan had meant when he said the aurora made people lose their minds?
Eventually the lights ebbed away, drifting off to play over another part of the northern skies. Maybe they would return. If I ran into Seth and Alan they would probably tell me where and when.
But I felt that now I had seen them – really seen them – I could go to bed, content that I had got my £250's worth.
The next morning I woke to what felt like a different Abisko, one buffeted by high winds and closeted by cloud.
The wind had blown the top layer of snow off the lake and now it was the exposed chilly blue of a Glacier Mint.
Return flights from Kiruna to the UK had proved expensive, so I'd found a cheap fare home from Stockholm instead; my overnight train to the capital left at 2.19pm.
On the way to the station I ran into Örjan and asked him how he rated the display the night before.
"Eight out of ten," he said, matter-of-factly.
I had thought it was the most amazing thing I'd ever seen. Maybe he was right to keep a ten to himself.
Aurora for under £250 – Did I do it?
Yes – almost… I flew to Kiruna in Swedish Lapland from London with Norwegian.com, staying at Abisko Fjällturer AB and largely cooking my own meals. I had hoped to do the entire trip for £250, but ended up spending £267.74 after treating myself to a night out at the local pub for a plate of reindeer linguine and a half pint of beer.