My top 5 experiences from 'The Wrong Way Home'
With actually going anywhere off the agenda for the moment, I thought I'd cheat a bit and create a 'Top 5 Experiences' list for each of my books.
I'm starting with probably the favourite of my books, 'The Wrong Way Home.
That book saw me travel overland from London to Sydney, a journey that was full of hair-raising adventures but also incredible kindness and hospitality.
As you know, I've always found that it's the people that you meet that make a journey memorable.
So, without any further ado, here's the first from my list.
---
#1: An evening in Prague with drunk Czech soldiers
It was my last night in Prague and I didn't really feel that I'd gotten under the skin of the city.
I spotted a small noisy pub on my way back to my hostel, and upon entering I was befriended by a bunch of young Czech soldiers on leave.
There were seven of them, all in Sherwood green uniforms and all very drunk.
They insisted I joined them.
They insisted on singing 'Harpee birthday to yew!', the only song they knew in English.
And they insisted I ended every toast with a hearty 'Fuck the army!'
To mark the evening as the very special event that it was, they all signed a beer coaster and gave it to me as a memento.
I don't remember much of the evening other than that it ended up with me crying off outside a disco called Fantasy despite the guys' insistence that there were 'many good girls' inside.
And that I woke up the next morning with a shocking hangover, 15 minutes before my train left for Budapest.
#2: Meeting Mirindi in Tirane, Albania
Mirindi latched on to me as I wandered across Skanderbeg Square looking for somewhere to stay in Tirane.
He was keen to practice his English and said I was welcome to stay at his house instead.
Mirindi lived in a modest little house on the outskirts of town, opposite an abandoned factory. As soon as we arrived he told his wife to take their child and stay with her parents. He was keen to practice English without any distractions.
The toilet in Mirindi's house was the first hole-the-ground type I'd encountered on my journey.
It was also an extraordinary English language laboratory.
The walls of the toilet were completely covered with pages from English magazines and books.
Unfortunately, the only publications Mirindi had been able to get his hands on were the Book of Mormon and Penthouse Forum.
For the next few days Mirindi was my guide around the sights of Tirane, including Skanderbeg Square again, where this picture was taken.
Every traveller knows that such hospitality often comes with a cost of course.
Mirindi was also a keen amateur artist so I spent every evening feigning admiration for his countless works of arts.
He was such a generous host, I couldn't bring myself to tell him that he was crap at painting hands.
#3: Drinking tea under the Si-o-se-pol bridge in Isfahan
Allahverdi Khan Bridge is a beautiful stone bridge that spans the Zayanderud River in Isfahan.
The locals call it Si-o-se-pol, the bridge of 33 arches because, well, it has 33 arches.
It's popular place to promenade, particularly on a warm summer evening, and offers great view across the river towards Isfahan's famous blue-tiled mosques.
The night I was there I noticed men disappearing into the bushes beside the bridge and not returning.
Naturally, I clambered down to check out where they were going.
It turns out there was a tea shop, quite literally, under the bridge.
And it was fantastic.
Customers sat at tables were scattered in tiny alcoves in each of the arches.
Waiters scampered dextrously across wooden planks to reach them, juggling trays of tea and hookah pipes, barely centimetres above the rushing waters.
And I was immediately waylaid by a bunch of guys who looked like they were off to bomb a passenger jet and determined that I would become their new best friend.
Oh, and see that guy just over my right shoulder? My new mates told me that he was from the Revolutionary Guard and there to keep an eye on me.
Just another typical day in Iran, really.
And why it's probably my favourite country I've visited.
#4: Celebrating the Dalai Lama's birthday in Tibet
Quite by chance, I found myself in Lhasa on the Dalai Lama's birthday.
The Chinese closed access to the city for the day and let the Tibetan's get on with celebrating.
The Tibetans obliged by throwing flour at each other and didn't mind me joining in.
One young guy even gave me a bag of flour to use and as well as some priceless advice – make sure you don't hit the Chinese soldiers.
I took the photo on the left up at the Potala. The young novice monks had all been given a special Dalai Lama birthday card and made special statues for the day.
The day ended with a big picnic down by the river at the Dalai Lama's former summer palace, Norbu Lingka.
Sadly, the Chinese Army blockaded the bridge and wouldn't let foreigners in.
I had to content myself with a bottle of chang and my bag of flour, taking potshots at the boisterous Tibetan families zooming past on their three-wheeler tractors.
And making sure I didn't accidentally hit the Chinese officer in reflector sunglasses barking out orders at the barricade on the bridge.
#5: Full Moon Party on Ko Pha Ngan
Ko Pha Ngan is an island in southeast Thailand that is famous for its Full Moon Party.
Every month hordes of backpackers descend on Sunrise Beach in the village of Haad Rin to dance, drink and dabble in illicit substances until the sun rises the next moon.
I didn't stay in Haad Rin. I was chilling at Bottle Beach, an altogether more mellow place a couple of bays away.
On the night of the Full Moon Party, a bunch of us hired a local longboat owner to take us to Haad Rin for the party and bring us back.
After the isolation of Bottle Beach Haad Rin was quite a shock.
As our boat pulled up on the beach we were greeted with flashing lights, thumping sound systems and the sight of hundreds of people dancing to competing beats along the beach.
I spent the night observing the unique dance styles of different nationalities and watching a girl pawing at the sky at saying 'I am a cat' as the sun rose.
This photo was taken as I waited for my fellow Bottle Beachers for the longboat ride back.
Half of them didn't show.
They'd been arrested for drugs and were 'chilling' in a crowded cell in the main town of Thong Sala.
We spent the next day helping to arrange their bribes, I mean bail.
Good times!
Start the journey now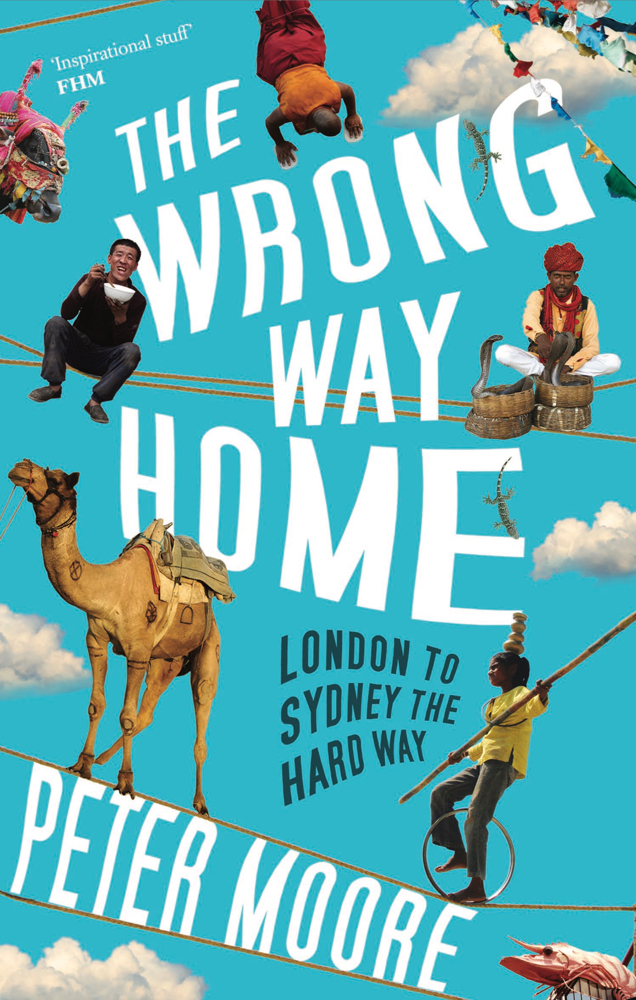 Here's some good news. The Wrong Way Home is available right now as an eBook on Amazon and Apple. Within a couple of clicks you can be set off from London to Sydney, right now. Bonza!